SAMES Major Project for 2015/16
Over a past two years we have been refurbishing and upgrading the power unit of the club diesel. The Peak. With great success. 
Now what? A canopy over the station? A canopy over the steaming bays?  We decided in favour of the boiler inspectors and the loco drivers. So our next major project is to design and build a canopy over the steaming bays.
We looked at commercially available designs but decided that they were not "railway" enough. After much research we settled on a design built at Leyland MES.  This is an all steel frame with a polycarbonate roof.  It would need be some 30ft long and 20ft wide with a pitched roof!  The uprights have to be carefully located to avoid impacting access to the steaming bays and the traverser.


After many discussions, photos, sketches, scale sketches and finally scale computerised drawings were produced. However we are based in a public park and the local council have a very big say in what we can do. In order to get planning permission and meet building regulations it soon became clear that we would have to employ a professional structural engineer. Also the steel frame would have to be built commercially to meet certified standards.
The structural engineer will take our drawings and dreams and make sure that this huge umbrella will not blow away and will not collapse under the weight of snow etc. He will also develop the drawings to the standard required for planning permission and then produce the detailed drawings for the steel fabrication company. Meanwhile we have to ensure that the huge concrete footings for the four uprights do not foul any of our underground ducting.
Also there is a big tree very close to one end of the canopy. So separately we have applied to have this removed.
--------------------------------------------------------------------------------------------------
Over the next 2 years we got the drawings prepared (STL Projects), got the planning permission and then contracted a local steel fabricator (Orchid Fabrications) to build and erect the steel frame. This contractor also arranged for the footings to be dug out and filled with concrete.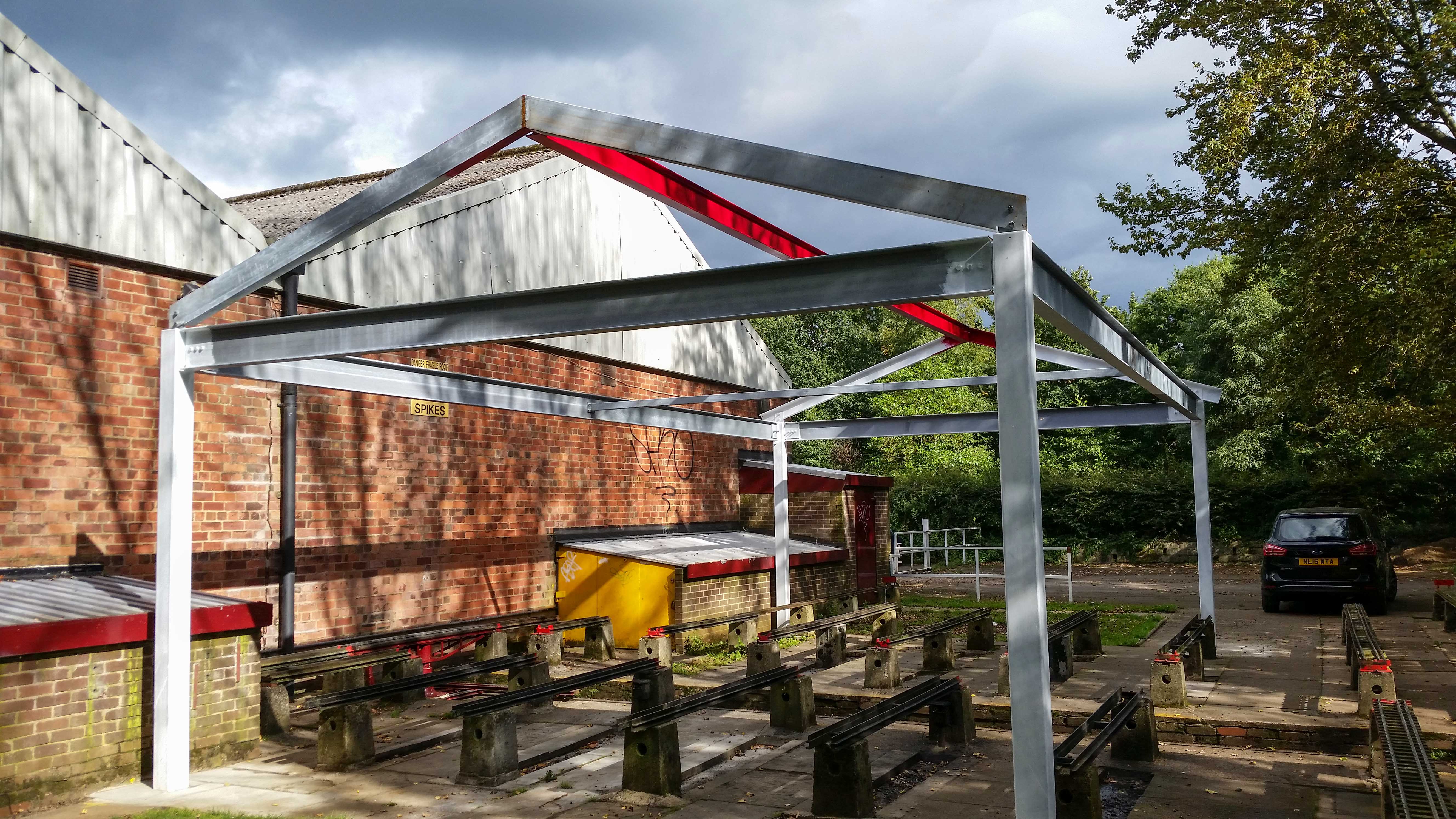 Now what about the roof?  Fortunately one of our members is a building contractor and he agreed to do the roof which consists of timber rafters covered in polycarbonate sheets.
The steel work was primed and glossed in maroon.
We then prepared very fancy eaves made from marine ply boards which involved a lot of work with a jigsaw and router followed by a lot of painting; LMS cream (buttermilk on today's colour charts!)
Decorative barge boards for the gable ends (commercial upvc) were painted maroon and fitted.  Guttering on the two long sides finally completed the roof.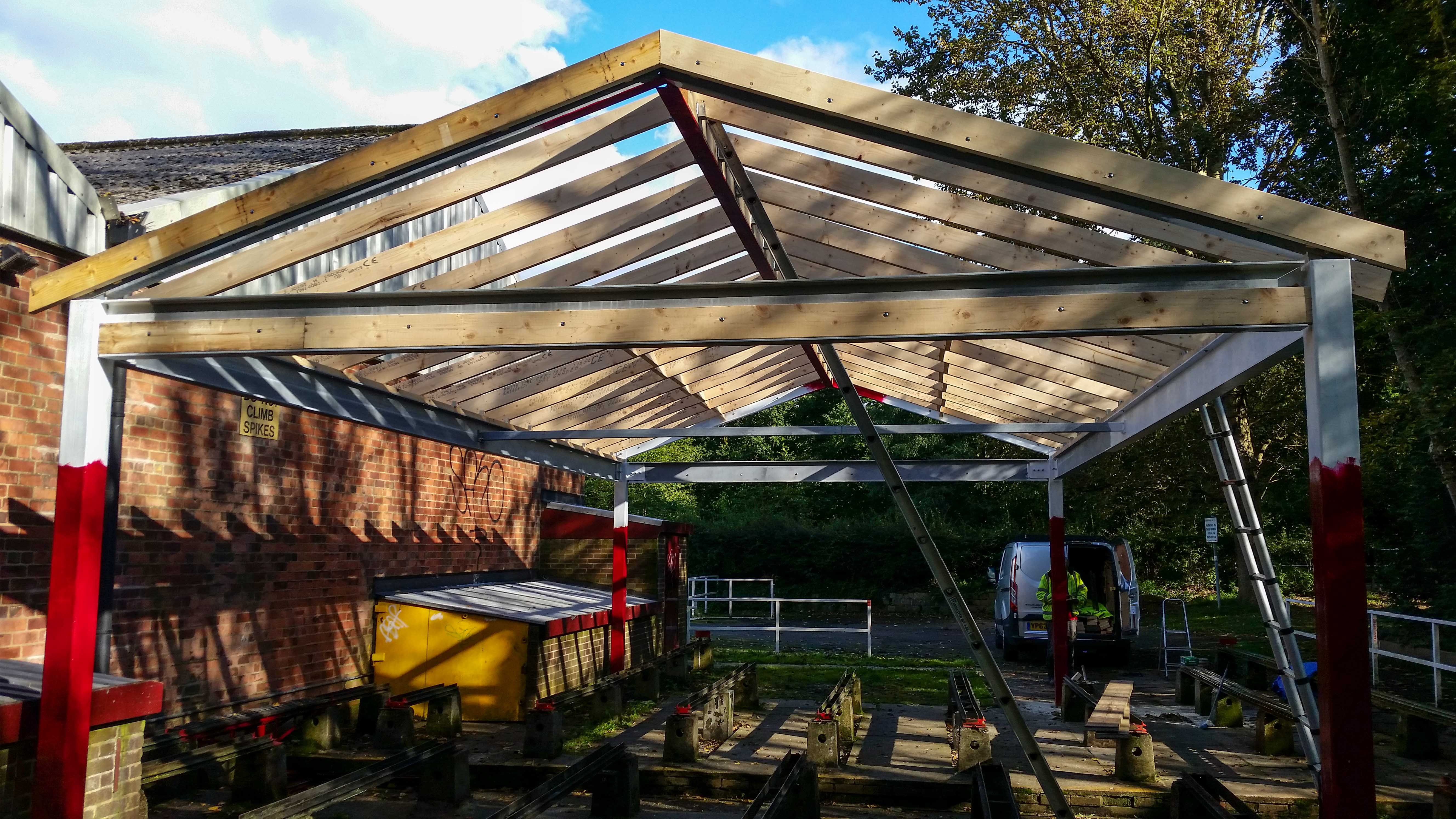 We now needed to alter the access to the steaming bays by altering the white steel fencing and getting a contractor to lay a concrete base (about 5metres square).
Finally one member donated an old factory clock which was restored by another.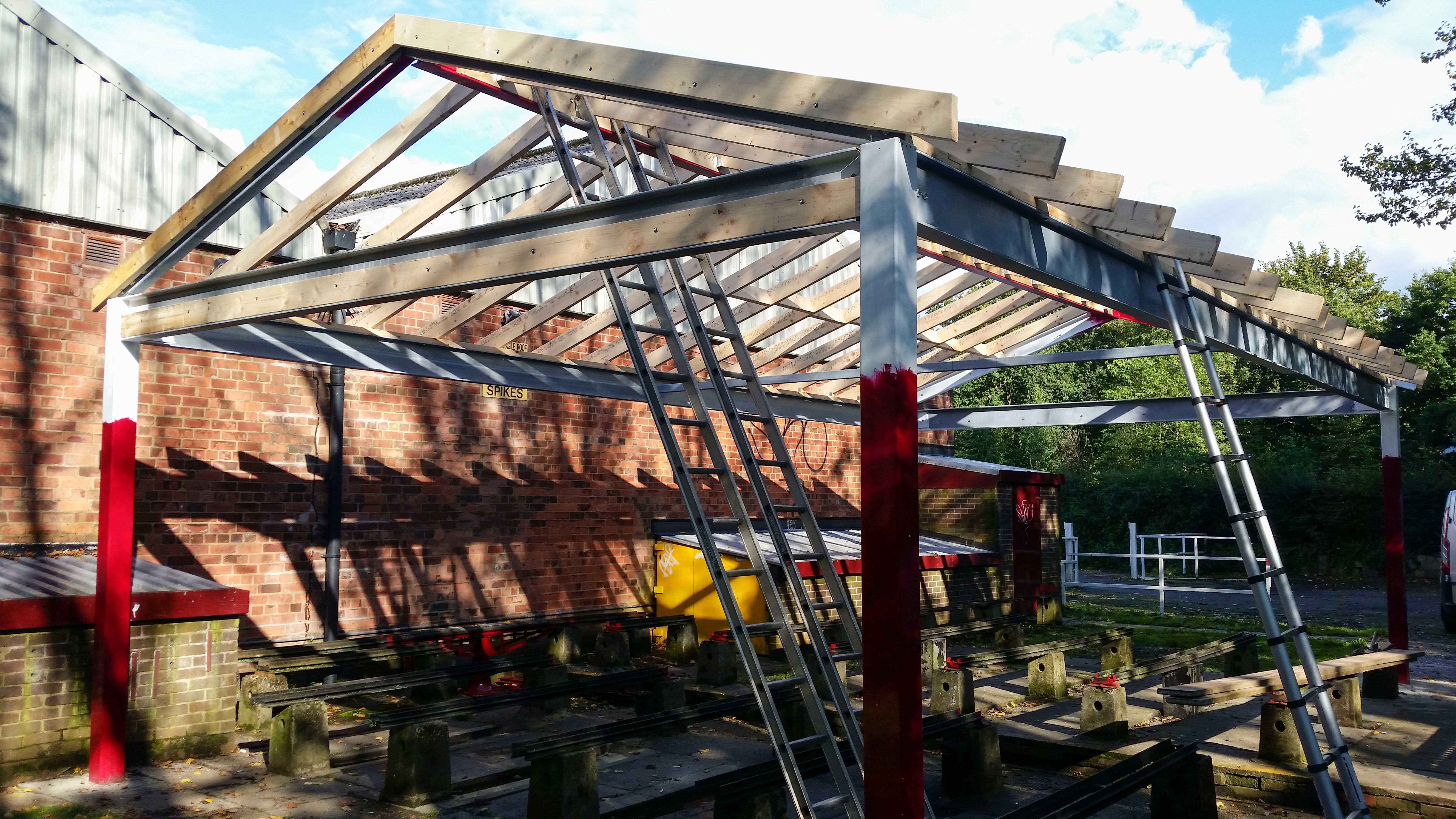 .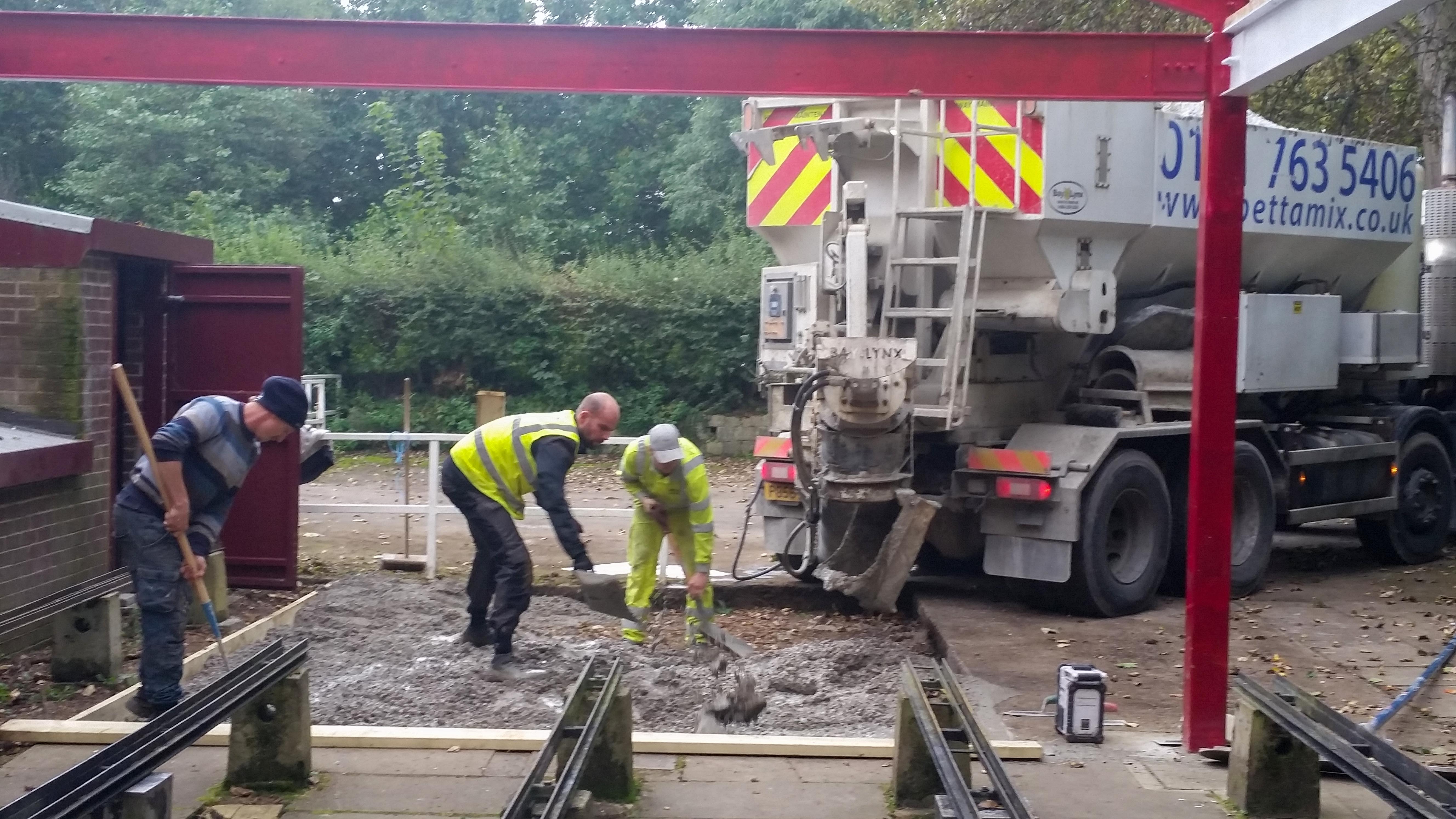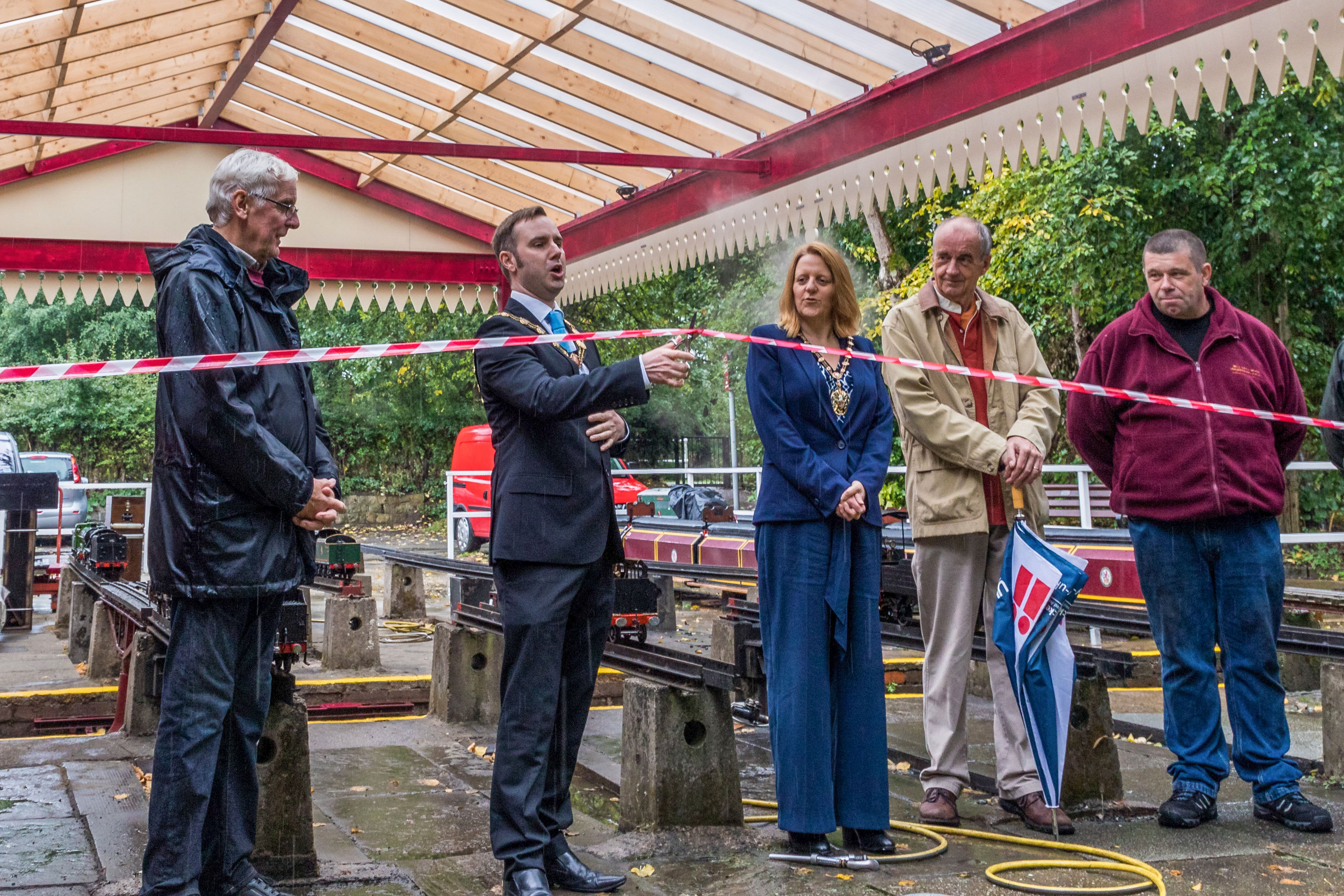 Finally one member donated an old factory clock which was restored by another.
We always aimed to build a canopy with an LMS appearance and we believe we have achieved this.
This was a massive project which proved well worth while when it rained heavily on the first day of our Open Weekend and we had invited the Mayor of Trafford to declare the canopy open.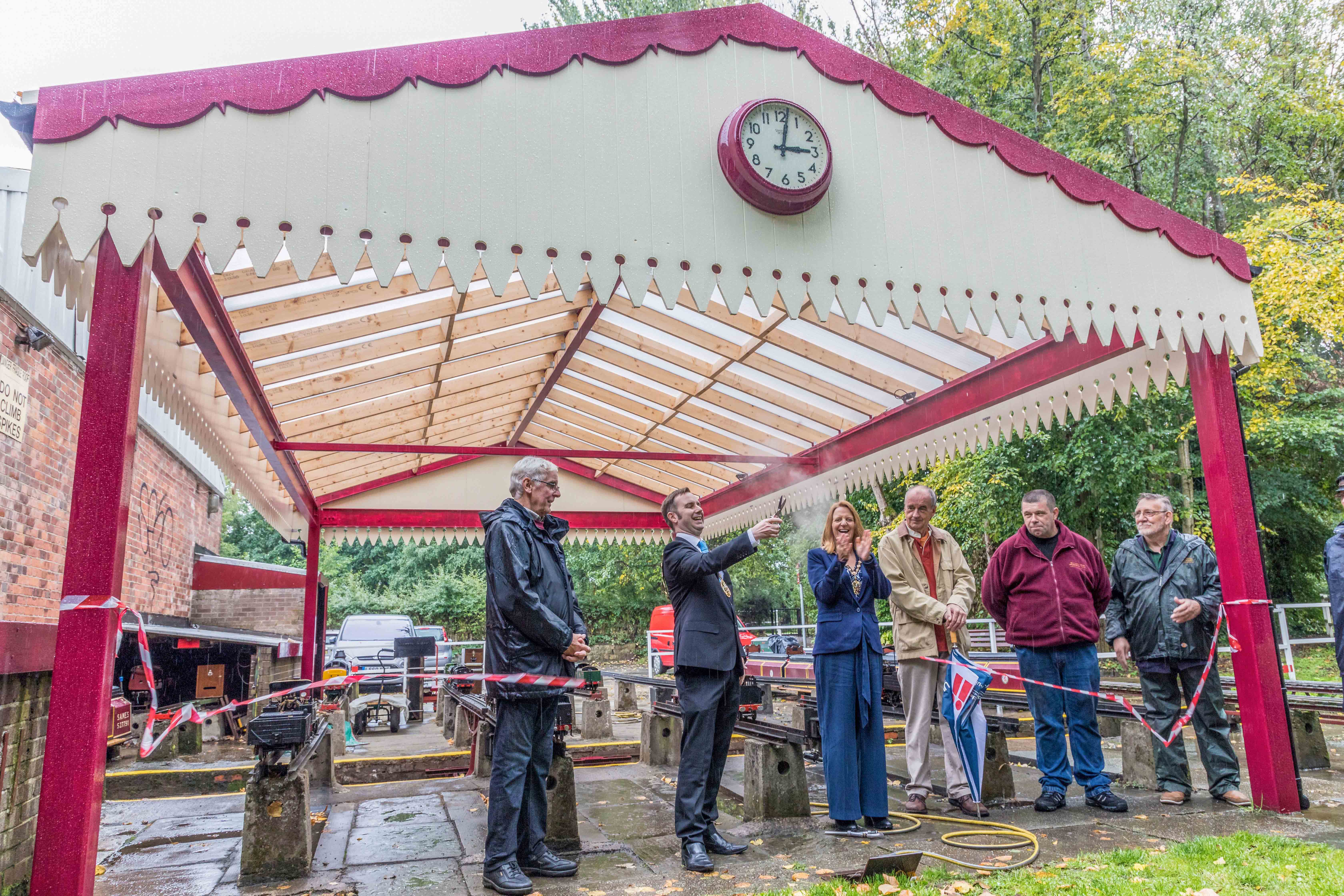 Together with some other tidying up, this completes the work in this area. In 2019 the focus will be on the station area!!
Now....what about a section of track in the steaming bays that can be raised up and down to facilitate working on an engine?  Ideas please